Many Honduran families struggle each day because they lack the basic amenities that we take for granted.
Through the 'Windows of Hope' program, The Carpenteros and Friends partner with Honduran families and communities on those things which will have the great immediate impact and lasting benefits. These projects include simple stoves and chimneys, latrines (outdoor toilets), pilas (outdoor household water tanks), concrete floors, improvements to roofs, and projects such as communal wells that will benefit neighbourhoods and villages.
We invite you to learn more about opportunities to provide lasting improvements for impoverished Honduran families.
Make a lasting difference for less than a dollar a day
Providing for the immediate needs of your family requires working long hours. And when not actually working, you're spending your entire day trying to find work so your family doesn't go hungry. There is little time and even less money to put toward improvements to your very basic two-room house.
When the rainy season arrives the dirt floor soon turns soft, and then to mud. Rain drips steadily through the holes in roof. The pit behind your home that is your family's toilet also floods and could cave in. For many Honduran families, this is how life will be this year. This is how it also was last year, and every year before.
But by next year things could be different because of your support for the Windows of Hope. Many of the most urgent needs can be provided for $350 or less, and will improve the lives of their beneficiaries for many, many years.
Projects currently in need of support
COMMUNAL WELLS - $10,000 CDN and up
There is nothing more important to a community than a safe, reliable source of drinking water. A dug well, using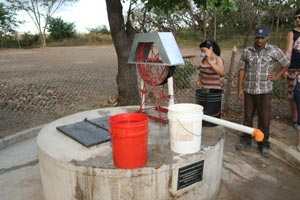 volunteer labour and materials purchased through funds by supporters of The Carpenteros, can be completed for as little as $10,000 CDN each. Digging can only take place during the dry season. Drilled wells cost substantially more, and are required when the water source is much deeper.  A drilled well also requires a reservoir/storage tank. Each well serves 100 or more homes, and can function for 50 years or more.
PILAS - $610 CDN each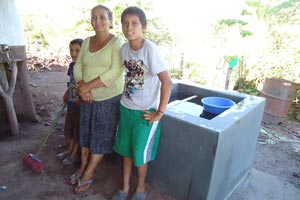 A 'pila' (PEA-lah) is an above-ground water storage basin, usually made of concrete. A pila generally serves one household and allows the family to store water on their property rather than constantly having to travel to the river, communal well or other water source.
CONCRETE FLOORS - $555 CDN each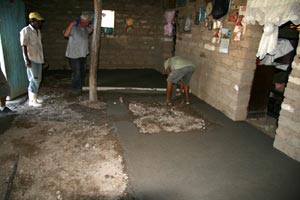 So why does a house made of scrap lumber, mud bricks or corrugated steel need a concrete floor?  Try to imagine what happens to the dirt floor in your house when the rains come. And the rainy season in Honduras extends for five months or more. Not only does a concrete floor provide comfort, but it is also a vital step toward infant and child health since a muddy floor is a major source of bacteria and fungus.
COMMUNAL MEDICAL CABINETS - $645 CDN each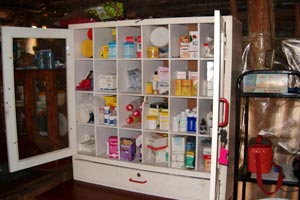 Residents in many remote communities do not have access to medical care. The poor are also often unable to purchase medicine. Communal medical cabinets are stored in the home of a community leader who has been trained to assess medical and first aid needs. Those who are unable to afford medicine or first aid supplies may obtain them on credit, and the community then replenishes the medicine cabinet.
LATRINES - $640 CDN each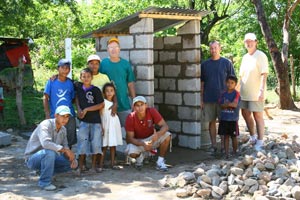 Community health begins with clean water and proper sanitation. Latrines - household 'out-houses' - are generally constructed with concrete block walls. The toilet stall is built several feet ahead of a sealed pit that is lined with rocks set in concrete, to prevent the walls from collapsing. The pit is also sealed to prevent it from being filled with rain run-off during the rainy season.
STUDENT SPONSORSHIP - High school education ($420 CDN per student per year)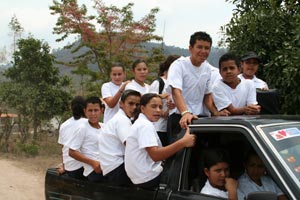 There is no 'quick fix' to systemic poverty, but one of the most effective measures is to ensure that promising young leaders have the opportunity to receive an education. Most Honduran children complete Grade 6, but in poorer and remote communities few have the opportunity to continue with a high school education. Your support, along with that of the student and/or parents, allows promising young Hondurans to receive a high school education.
ROOFS - $770 CDN each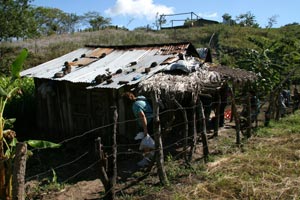 Even on a very basic house, a proper roof provides protection from the rains, to keep a family in greater comfort, to protect their possessions, and to reduce illnesses stemming from bacteria and fungus. An improved roof will serve a family for many years, and makes their home much more liveable during the extended Honduran rainy season.
CLICK HERE TO DOWNLOAD THE WINDOWS OF HOPE BROCHURE
All projects funded through the Windows of Hope, the One Day Challenge, or any other project or program supported by the Carpenteros and Friends, are based on the needs and priorities of the Honduran communities and residents. Priority is given to those in greatest financial need, the elderly, disabled, and those with infants or small children. These projects do not require the involvement of a Carpenteros' work team, but in most cases the work proceeds through the use of Honduran labourers or community involvement.  If you have any questions about any of the projects, or wish to discuss involvement in a project in Honduras, please contact us at This email address is being protected from spambots. You need JavaScript enabled to view it.