Who are The Carpenteros and Friends?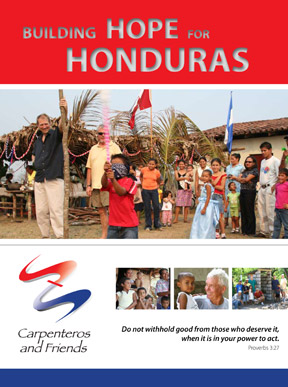 The Carpenteros and Friends are a group from Southern Ontario (Canada) who are committed to showing the love of Jesus Christ to communities in need in Honduras.
The Carpenteros are proud to work in partnership with World Renew (Canada and Honduras), Diaconia Nacional, Alfalit, Harvest Honduras, MCM/Stewardship of Christian Ministries and the Association for a More Just Society in Honduras to support micro-finance cooperatives, education, health and sanitation, leadership training, and various community improvement projects.
On this website you can find out more about the various projects that are underway, our fundraising efforts, and how you can become involved.
We invite all who share our passion for helping the people of Honduras to participate in Carpenteros' events and service trips.
If you would like to learn more about the opportunity to assist with community development in remote areas of Honduras, please contact us by email: This email address is being protected from spambots. You need JavaScript enabled to view it.
Carpenteros and Friends
c/o Calvary Christian Reformed Church
265 Middletown Road, R.R. 1, Dundas, Ontario
L9H 5E1
CLICK HERE TO DOWNLOAD OUR BROCHURE