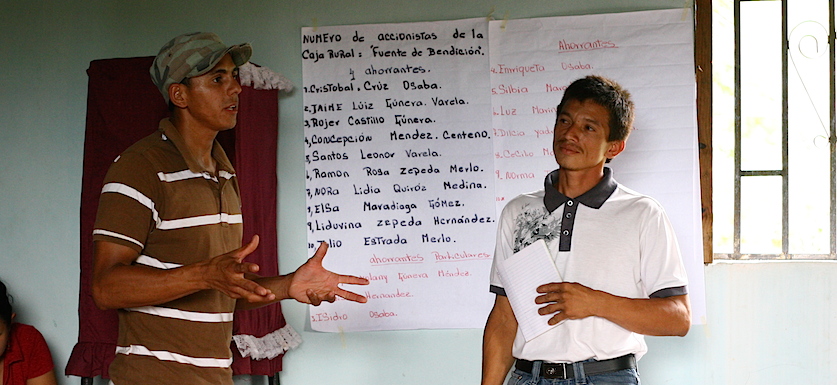 Using a small loan to create a huge opportunity
Hand-outs and charity can create dependency, but the local 'micro-credit union' model instills responsibility and pride of ownership. Credit unions in Central America are totally different than the 'bricks and mortar' institutions that North Americans think of when they hear the term 'credit union'. These community credit unions are cooperatives governed by a locally-elected board of directors, and they typically meet at a church, community centre or the home of a member.
Credit union members are assisted in developing a small business plan and applying for funds. Approval for loans is given by the local directors -- the people who know their community the best! Credit union members also receive training in small business skills, literacy, mathematics, credit union management and sustainable agriculture management.
The average loan ranges from $300-500 US. Depending on the rules set by the local board, a borrower must first save a quarter to a third of the money they wish to borrow. Defaults are rare, but when they do occur are covered by the 'Mercy Fund' required in each credit union.
Often, the credit union directors are elders, deacons or pastors of local churches. These church leaders say the credit union is one of their MOST EFFECTIVE means of evangelism, because people in their community can actually witness the LOVE OF JESUS CHRIST BEING PUT INTO ACTION.
The nature of the loans varies from community to community. In rural areas, many loans are for agricultural tools and supplies, seed and fertilizer.  Other typical loans are for small machinery, tools or supplies for starting a small business, or products which can be bought in bulk and then sold at a local market or small store.  Particularly in rural communities, many Hondurans operate a small variety store out of a room (or window) in their home.
Loans are usually repaid in a short time period (3-6 months), depending on the amount, the nature of the loan, and how quickly the loan recipient anticipates being able to generate income from the items purchased.  And, through the additional income they can generate because of the loan, these families are able to address their own priorities, such as improving their home, sending a child to high school, or providing care for a disabled or elderly family member.
Since becoming involved in the micro-credit union project in 2003, visiting teams of Carpenteros have had the opportunity to meet with credit union leaders in numerous communities. In every such visit, we were greeted by honest, hard-working and deeply appreciative Hondurans who aren't looking for a hand-out or charity - just the OPPORTUNITY to help themselves and their family.
Through your support of events such as the Building Hope for Honduras Dinner, the Valentine's Bistro Carpenteros, and other events and activities in support of local credit cooperatives, you are helping Honduran brothers and sisters in Jesus Christ to provide for their daily needs and to build a brighter future for their children and grandchildren.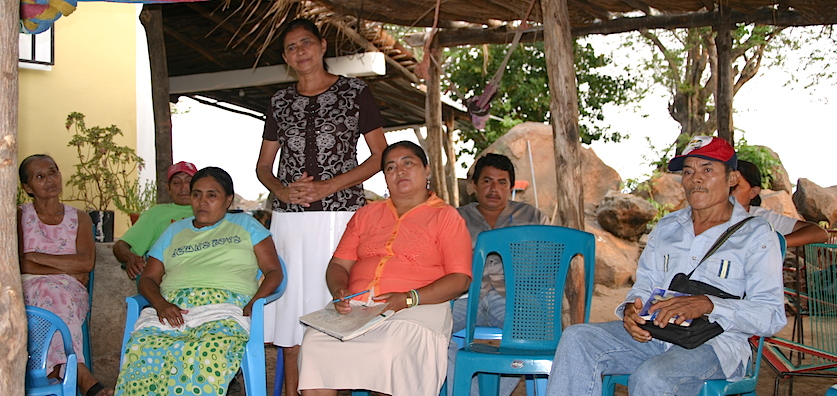 Members of the micro-credit union is Islitas, on Tigre Island.