For coffee growers in this village – men such as Claudio Salinas (on horseback) – forming the Association of Coffee Producers of Rio Olancho has been a very exciting initiative. The producers organized the cooperative, elected the directors, and regularly meet for training provided through Diaconia Nacional, World Renew and the Honduran Coffee Institute (IHCAFE).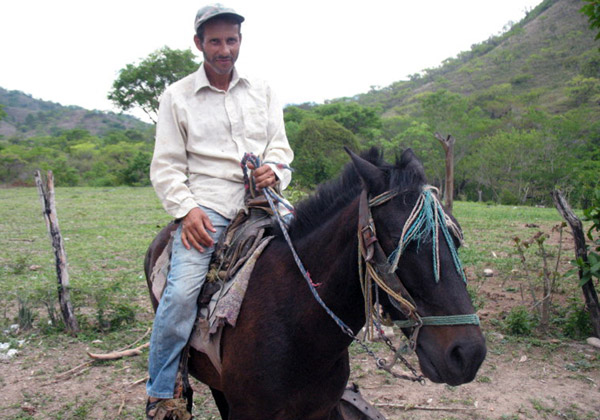 They have taken steps to protect the mountain environment where the coffee is grown, so that the green Arabica coffee beans that are shipped to Canada are shade grown with organic fertilizer and natural insect control methods. Not only does this make for great tasting coffee, but the producers say they are proud to be caring for the land by preserving the forests and streams.
And the work these farmers have invested into their crop has resulted in high quality coffee – so good that the Honduran Coffee Institute, which inspects and grades the coffee before it is allowed to leave the country, has commended them for the work they have done.
In the past, the El Carrizal coffee growers sold much of their crop to middlemen who drove from farm to farm, pitting one farmer against the other and offering low-ball prices. 
Now, in partnership with the Carpenteros, members of the Rio Olancho coffee cooperative are proud to export their highest quality 'direct trade' coffee beans for the enjoyment of Canadian coffee lovers. The green beans are precisely roasted by the experts at Java Works (www.javaworkscoffee.ca) and made available as whole beans and medium ground.
In addition to the pride the growers experience, they also receive a very fair wage – a full 30 per cent premium over the market price for green Honduran coffee beans. This was the premium that the coffee producers themselves suggested – a sufficient return and incentive, but not so great as to cause animosity or increased economic disparity within their community.
But it's not just the growers and their families who benefit from this project. The premium paid to farmers allows them to pay higher wages to those who earn a living as coffee pickers. And coffee sales have also allowed cooperative members to buy materials for small greenhouses, where their coffee can dry protected from the rain.
These hard-working coffee producers can see God's hand in making this dream a reality. They give thanks to God for the success of the coffee project, and are excited and motivated as they look to future possibilities.
The members of the Association of Coffee Producers of Rio Olancho sincerely hope you enjoy their coffee, and they thank you for the support that allows them to provide a better future for themselves, their families and their community.
When you, your business or your church purchase RIO OLANCHO Direct Trade Coffee you are pouring much more than just a great cup of coffee – you are pouring hope, pride and the promise of a better future into the community of El Carrizal, Honduras.