The Carpenteros and Friends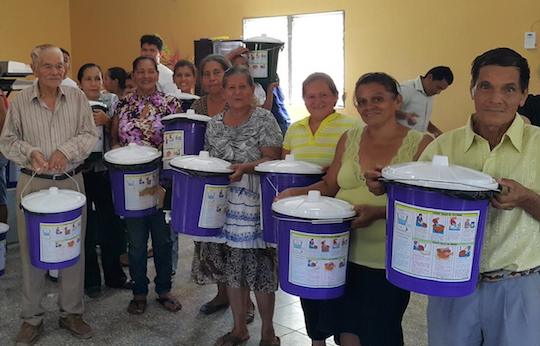 Because of the generous support of guests, donors and sponsors at the 15th annual 'Building Hope for Honduras' dinner (October 1, 2015), a number of community improvement projects were quickly put into motion in Honduras. 
Our Honduran partners are using these funds to provide:
Water pilas (cisterns) for each of the 34 homes in Guanacaste
Repairs and additional classroom for the school in Guanacaste
Water filtration kits for 213 homes in La Joyada and La Chorrera (see photo above)
A community vegetable garden at the kindergarten in Nueva Suyapa
Training and seed capital for 12 community credit unions
20 concrete floors and 20 pilas for homes in El Limon
10 pilas and 45 concrete floors in Dos Quebradas and Tule
Urgent repairs to communal water system in Coyolar
Each of these projects is based on a need assessment carried out by World Renew, its Honduran partners, and residents of the local communities.  Additional funds were also allocated to the Education Project for high school students, local micro-credit cooperatives that provide small loans, and emergency food relief and farming supplies to several drought-stricken communities.
These projects are only made possible through God's tremendous blessings and your generous support.  You can find additional photos of recent recipients of water filtration kits and concrete floors on the Carpenteros Facebook Page. Thank you!