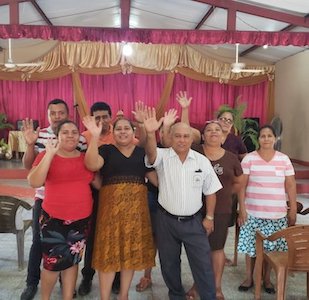 Insulation for church roof in Los Llanitos
We thank God for another wonderful project in the community of Los Llanitos to improve the quality of life of its inhabitants.
This project of installation of heat insulation will improve the climate inside the church to be able to attend to the parishioners.  Until now, the heat is unbearable to hold meetings inside the building even at night.  It is also important to note that this community has a very strong climate of heat throughout the year.
This season the temperature exceeds 40 degrees Celsius, so it is very difficult for parishioners to meet on Sunday for Sunday school service and at night it is also hard heated.
Now with this insulator, the temperature has improved a lot, and it is possible to meet inside the church even if the temperature is very high in the community. Glory to God.
This weekend the church parishioners were very surprised with the weather inside the church! The parishioners are very happy and grateful!
Thank you Carpenteros friends for blessing this church with this heat insulation.  God bless your lives and those of your families.
(Originally posted to Harvest Honduras Facebook Page)